RS11 Strain, also known as "RS-11" and "Rainbow Sherbert #11," is a hybrid weed strain made by crossing Pink Guava with OZK. RS11 is more relaxing than energizing.
Consumers who have smoked this strain report feeling calm, sedated, but still mentally alert.
The flavor profile is extra fruity with hints of sour citrus.
RS11 flower provides a smooth smoke and a lingering sweet and spicy aroma.
Medical marijuana patients say they smoke this strain when experiencing mild pain.
RS11 Strain is believed to be about 15% THC.
According to growers, this strain stands out among the crowd boasting vibrant hues of lime green and space yellow.
RS11 has an average flowering time of 10 weeks.
This strain was originally bred by Doja Pak.
Rainbow Sherbet #11, also known as RS11 or RS-11, is a Sativa-dominant hybrid Strain created by crossing Pink Guava with OZK.
However, some believe there is more to its heritage than being told.
Black Sherbet also comes into the picture.
RS11 Strain is a pairing of OZK with Pink Guava that was then crossed with a Sunset Sherbert backcross phenotype known as Black Sherb for a tendency to get darker than other versions of the strain.
That Black Sherb pheno was originally bred by DEO farms, then hit with the pollen from Wizard Tree's OZK x Pink Guava male.
The inhale of rs11 strain is set to have more sweet candy notes with subtle sour gas notes.
Meanwhile, the exhale evolves into the opposite, with the gas notes becoming more forward, complemented by delicate candy notes with even more delicate citrus notes making an appearance.
More Information About Rs11 Strain:
RS11 Strain, RS-11, Rainbow Sherbert or Rainbow Sherbert #11 is a wildly popular cannabis strain from North America.
Originally crossed by Doja Pak and according to him originated from Pink Guava and OZK.
Those two parents make this exotic creation particularly complex in taste and effect; but also beautiful to look at.
There are different phenos of this strain with various external characteristics.
Most exhibit a light green color with yellow tones; although some are darker green with some purple tones.
A nice solid bud that appears to be perfectly cured. This is noticeable by the stickiness of the bud, combined with the way the stem breaks when you bend it.
A test with Delta9Analytics' Purpl Pro confirms this, as the humidity within the flower comes out at a near ideal 9.4%.
Moreover, according to the test, this RS11 from De Loods has a THC percentage of 21%.
This also happens to be exactly the average Leafly indicates for this allrounder. So far, so good…
Smell and taste RS11 Strain:
In taste and effect, RS11 from De Loods in Amersfoort also definitely does not disappoint.
Indeed, it is surprisingly delicious.
The distinctive fresh, layered sweet flavor is followed by an almost pungent spice on the tongue, making this strain's aroma difficult to pinpoint.
Although there are distinct notes of citrus, fresh fruit and a gassy aftertaste.
This strain is a real treat to smoke and also burns away well with relatively white ash.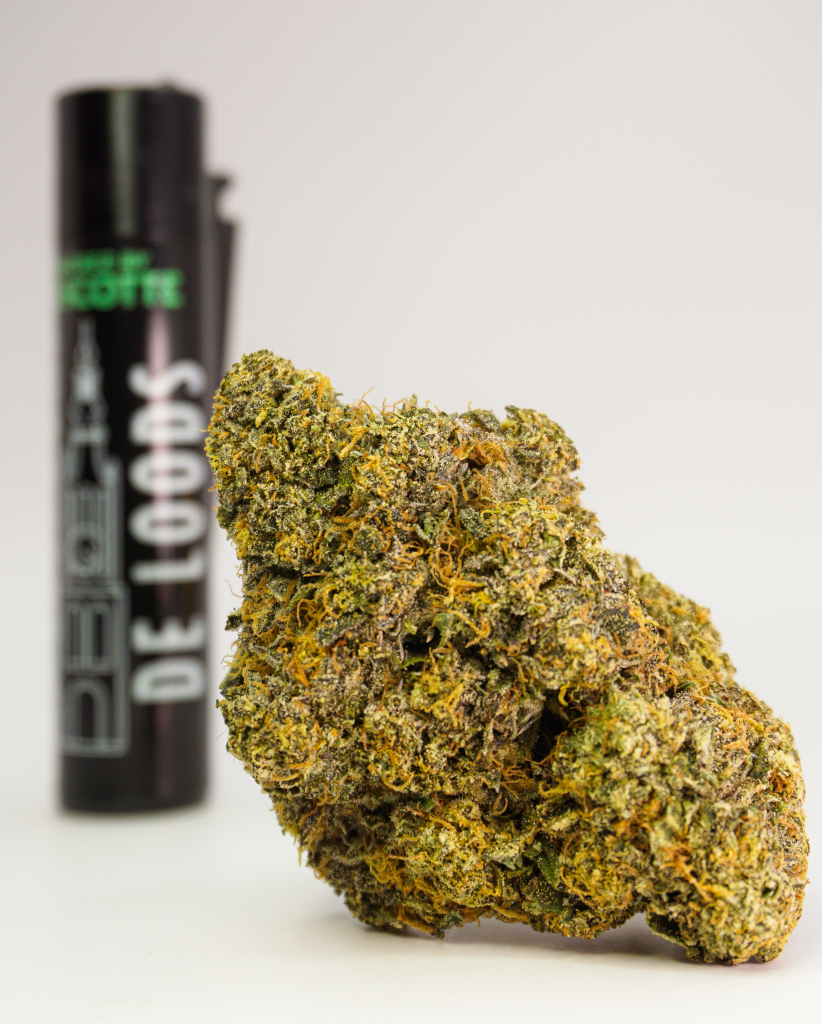 Rainbow Sherbert #11 Effect:
That effect, by the way, is not to be trifled with in Rainbow Sherbert, which apparentely has decent THC percentages of its own.
Add to that a particularly extensive terpene profile – with the relaxing Myrcene as the dominant terpene – and you're left with a versatile strain.
Because in lower doses you have an uplifting, happy and smiley effect.
But the relaxation quickly takes over when you consume more of it.
Overall, it is an analgesic, uplifting strain with a relaxing effect at higher doses.
More Information about Rs11 Strain:
Smell of rs11 –
Instantly the room filled as the bag opened, at first smell i get a very sweet,sour and spicy purfume like gas that sticks to your nostrils.
There is so much going on in the bag that its really hard to pinpoint each musk that I receive,
the best way to describe it is kind of like a bowl of frosted flakes with a peppery gas that finishes with a sour tang added on on the back end, a truely intriguing scent.
Taste of rs11–
On the dry pull of the Joint I get a sweet and sour taste that was very similar to a meringue dessert of some sort.
I light up and close my eyes and really take in the first puff,
smacking my lips together as this creamy smooth earthy sweetness fills my mouth with a slight shift to the with an amazing first impression ,
the exhale provided me with a very similar experience but had flavors of gas mixed in with the phenominal taste this bud offers.
A bowl offers the same flavor and a bong leans a little more to the gas side of the taste.
Effects  of rs11–
It was right about when I hit the half way point that I could feel the buzz begin to start in my lower back and slowly creep up and begin to relax every muscle in my body,
around 3/4 of the jay the stone was beginning to set into my head as well as I was released from any stress that I had, like listening to waves crash on the ocean putting you into a slight meditative state.
The high is very clean and clear not a bit clouded and continue about my day in a absolutely wonderful mood.